Pool pump / circulation
Pool pumps operate on a timer and are operative about 6-8 hours per day (may vary due to the season and special pool circumstances). Normal hours are between 10 am to 4 pm, but it can vary due to Daylight savings time. Please notify us if you notice the pump not operating for more than 24 consecutive hours.
It is fully normal for the circulation pump to be off at night.
When the pump is off – any error light should be ignored.
Please report any error messages only if persistent for more than 24 hours.
Pool water level low / pump running loud (your responsibility between pool service visits!)
If you hear the pump sucking air or is "blurbing", or the optional pool heat is not working as desired, your support is needed to compensate for water lost due to evaporation and protect the equipment. This happens especially during times of no rain.
First, please check if the water level is getting low. If so, please use the garden hose to fill water. The ideal water level should cover 2/3 of the skimmer inlet (the square box on the side wall of the pool where the water is sucked in – see picture –>).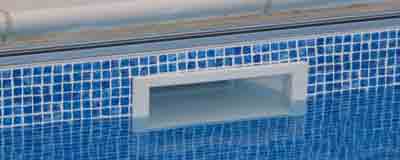 If you notice extensive water (=refill each day more than 2-3 inches) over several days or other problems, please let us know.
HINT: If you ordered optional pool heater service, evaporation will be increased. Any moisture / water around the pool heater is fully normal. This does NOT constitute a leak. That water is just from condensation.
If the rental property has an uncaged pool, it is also important to keep the skimmer box free of debris. This is especially important after stormy weather when leaves and debris could accumulate and interfere with the water flow. This may also prevent the pool heater to run (if you ordered pool heat).
Pool Equipment
Please be advised only our service personnel may make changes to pool equipment. Guests are not allowed to modify any settings. Any damages or re-adjustments due to tampering with pool equipment may trigger damages. Please be advised, that any expenses we incur will be charged to your credit card on file.
SPA
If a property provides a SPA, you may use it.
However: We do NOT warrant any SPA functionality. These installations tend to fail quite frequently and as much as we would like to have it available, this is beyond our scope.
SPA heating is always connected to pool heating, which is an optional service. So without pool heat, the spa won't heat.
Pool cleaning & chemistry
NEVER LOCK POOL CAGE DOORS, otherwise pool service will be unable to check on pool water. They do NOT knock or call.
Pools are regularly cleaned, treated and maintained PH / acids / chlorine at the owner's expense as a courtesy. This happens once a week for caged pools and twice a week for uncaged pools.
The pool company has their own schedule (M-F, not on holidays). We can not provide dates/times when they come.
When renting a property with a patio / pool, it is important to realize that your help in maintaining it – to some degree – is expected and required. A vacation rental is like a regular home – not a Suite in a Ritz-Carlton.
During / following inclement weather and / or higher winds, pool / backyards are NOT to be cleaned "on demand" for removal of fallen debris / dirt / leaves / pollen / tree flakes in the pool. Even a pool cage cannot avoid pollen or flakes.
Intermediate cleanings are NOT included in rent and guest needs to order his own service with a local pool store if desired.
Automatic cleaner
Some pools may have a suction or electric automatic pool cleaner. You may disconnect the cleaner (simply unplug suction hose from skimmer or switch electric cleaner off) if interfering with your swim. Automatic pool cleaners are intended for owner use, so we cannot provide support how to use or replace in case of defect.
Rainy times – additional chlorine might be needed
After times of increased rain, the chlorine level might get lower than normal. If you notice algae buildup, please contact us, we will notify the Pool Company so they can check the next business day. If you notice algae during weekends, we recommend getting some chlorine at any pool store as an emergency measure in order to keep the water clear.
All our pools are thoroughly maintained and intermediate occurrences of small amounts of algae on steps/corners / low circulation areas may occur at any time. This is a sign of just the right amount of chemicals being present in the pool. As long as the algae is just in a few areas it is safe to swim.
Unfortunately, we cannot provide any kind of refund for pool issues (algae, debris etc) including optional pool heat with the exception if our pool service deems and/or confirms the pool to be unsafe for more than 48 hours.
Pool fence
Some properties may provide a pool fence in the garage. We do not have any information if this is available, in good condition for a specific home. We also do not guarantee it.
If you decide to use it, it MUST be removed and put back where you got it (usually garage) before your departure.
If we find a pool fence at the pool up or laying around after your departure, you are subject to a $250 fee for fence removal – no exceptions.
Please be advised, at our T&C, children may not be left un-supervised on the property at any time.
Pool safety
We do not provide or warrant any pool safety features like fences, alarms, safety rings and such. Pool noodles or other toys found at the property are not suitable as pool safety devices. We do not provide pool lifts for the disabled.
The guest assumes full responsibility for any kids, pets or elderly people and understands he/she needs to bring any safety devices.
NO PETS IN POOL! If we find pets in pool, this is reason for immediate termination without refund.
Pool / Backyard lights
Sorry, we do not have info on pool and backyard lights unless these are automatic. We do not warrant or repair pool lights, that's the scope of owner.
Salt Water pool
Pool sanitation is maintained by chlorine for all pools. We do not support or provide salt water sanitation at this time.
Pool screens
Pool screens may be torn after a storm or by a wind event or by wildlife. While we are trying to schedule  repairs to screens as fast as possible, we formally do not warrant screens on cages or enclosures.
Please report any torn screens and we are happy to schedule repair. It is advisable to add a photo to your report.
Disclaimer: You may encounter increased debris in pool area or mosquito activity, however this is beyond our control.
Toys
We do not provide pool toys. However, you may find toys in the garage or pool area from previous guests. Feel free to use, if you find broken ones or just too many feel free to discard. There is no need to replace or report about pool toys.
IMPORTANT: Toys in pool area may not leave dirt, debris or damage the property including items which may be sucked into the pool system. Glass is strictly prohibited! This specifically includes caulks for kids, balloons (plastic near the water can be dangerous to wildlife), small plastic figures (can be sucked into the pool system) or heavy balls (damage to pool cage).
Any toys brought (including inflatable pool toys) should be removed before departure back into the garage or discarded.
Heavy Rain
During periods of heavy rain, the water level in the pool might rise above the normal level. Usually, the pools do not overflow, but even if, an overflowing pool should not cause a flooding hazard to the house as the pool decks are pitched away from the house. If you are unsure, please report here.
Lawn
The lawn and yard are maintained on a regular schedule. Days, times and schedule may vary due to season / rain or other factors.
It is the guests' responsibility to clean up items you brought into the yard/patio (toys, cans, glasses, cigarette/ashtray, pet remnants). Yard cleaning of items is NOT included in cleaning fee.
All guests are advised, that especially during/after severe weather/draught yard maintenance is provided on regular schedule only.