Tiramisu Ristorante & Pizzeria
Looking for something authentic? Here it is! They do original handmade Italian Pasta right in Bradenton.
Luca & Monica, the young owner couple, just moved from Italy in 2014. So this one is as authentic as it can be. Little, hidden place behind DQ Restaurant on US-41. You don't go there for the view, you go there for the food and Italian hospitality. 100% secret tip. Small place, not so fancy from the outside, but get surprised when you enter the store. The food is to die for – ask for their specials!
Suggest to call them before you go, so you get a spot in this small place.
5215 14th St W, Bradenton, FL 34207
Phone:(941) 753-2800
Website: Tiramisu Bradenton
Food 
Drinks 
Service 
Atmosphere
People Italian Restaurant & Pizzeria
Brand new place! Great Italian Food in a nice & vibrant atmosphere with inside as well as outside seating. Colonial style house right on US-41 with fireplace and wrap around porch. Owners just arrived from Sardinia, Italy and opened the business in January 2017. This one definitely has charm.
336 8th Ave W, Palmetto
Phone: (941) 981-9800
Food 
Drinks 
Service 
Atmosphere
GIO Fabulous Restaurant & Martini Bar
Nice, neighborhood trattoria with an tucked away outdoor seating area. Family owned and run by New York City native sons, with a soft spot for Sinatra and old-world décor, the brothers serve up thin and crispy pizza, pastas and fine Italian wines.
Nick Bolletieri (the Tennis guru) is a regular patron here.
4805 Cortez Rd W, Bradenton, FL 34210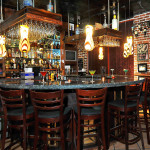 Phone:(941) 792-3388
Website: giobrothers.com
Food 
Drinks 
Service 
Atmosphere