St. Armands Circle
St. Armands Circle is an island shopping center centrally located on the lushly landscaped island of Lido Key. This enchanting circle of fine shops and restaurants is set in a tropical paradise. It's a great place to shop, enjoy lunch or dinner or just take a stroll and enjoy the beauty!
Mote Marine Aquarium
Explore the secrets of the sea through exhibits that showcase the world-renowned research of Mote Marine Laboratory. See sharks, dolphins, manatees, sea turtles and fish of all shapes and sizes. Trip Advisor named the local aquarium the 5th Best in the United States!
The John and Mable Ringling Museum
This historical cultural complex includes the Museum of Art featuring both permanent collection and temporary exhibition galleries; the winter-residence of John and Mable Ringling, the Venetian-Gothic Cà d'Zan mansion; historic grounds and gardens; the 18th-century Historic Asolo Theater; and the Circus Museums, including the home of the world's largest miniature circus at the Tibbals Learning Center. – See more at: http://vivaflorida.org/Explore/Museums/The-John-and-Mable-Ringling-Museum-of-Art#sthash.kMV67cf5.dpuf
Marie Selby Botanical Gardens
A tropical, urban oasis featuring unparalleled horticulture displays and a Sarasota Bayfront setting, Marie Selby Botanical Gardens is a world-class center for the research and collections of epiphytes, especially orchids and bromeliads, and their canopy ecosystems. Enjoy the koi pond, bonsai and bamboo gardens, café and more.
The Sarasota Classic Car Museum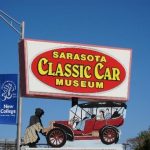 Is recognized as the second oldest continuously operating antique car museum in the Nation! As you stroll through the museum, travel back in time and into the future of man's greatest invention, the automobile! Antique, exotic, European and one-of-a-kind classics are featured in our rotating exhibits throughout the museum, seven days a week. Here you will view Circus Magnate, John and Mable Ringling's collection of Rolls Royce autos, John Lennon's 1965 Mercedes Benz, and Paul McCartney's beloved Mini Cooper. The museum features over 75 automobiles, consisting of the alphabet of the world's foremost automobile manufacturers; Alfa Romeo, Bentley, Cadillac, DeLorean, Edsel and Ferrari are just to name a few of the exquisite examples of automotive craftsmanship!