Free Island Trolley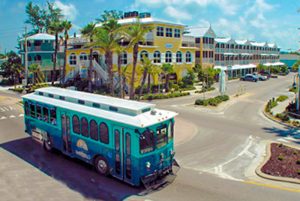 The Anna Maria Island Trolley is a great way to explore the island – and best of all: it is absolutely free. The Trolley will bring you to all your favorite restaurants and shops, and even neighboring beaches. Trolleys offer both air-conditioned and open-air seating. You can even load your bike on convenient racks provided at the front of the trolley.

Service Hours and Stops:
Daily service on the trolley runs from 6 a.m. to 10:30 p.m. about every 20 minutes from the Anna Maria City Pier on the north of the island to Coquina Beach on the south end of the island.
Anna Maria Island Trolley Map Routes and Times
Another option is the Monkey Bus, a private transportation service that works off tips, and runs well after midnight. Rides are offered in golf carts or a karaoke-equipped Mini Bus.
Longboat Key, Sarasota
MCAT (Manatee County Area Transit) also partners with SCAT (Sarasota County Area Transit) in operating the Longboat Key Trolley from Coquina Beach on Anna Maria Island to downtown Sarasota via Longboat Key and St. Armand's Circle. Daily service runs from 5:30 a.m. to 8 p.m. every 60 minutes. The fare is $.75. The Longboat Key trolley does not operate major holidays including but not limited to New Year's Day, Memorial Day, the Fourth of July, Labor Day, Thanksgiving and Christmas Day.
Longboat Key Trolley Map Routes and Times