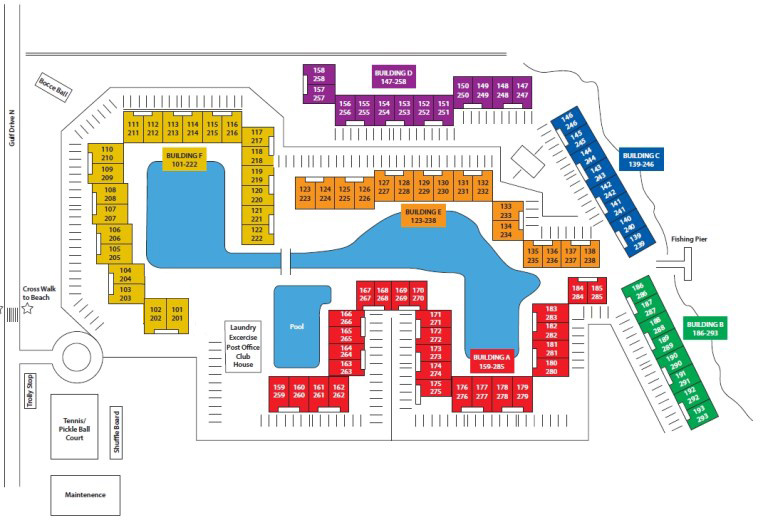 VEHICLES: 
Roadworthy gas (golf) carts and medical mobility devices are permitted on the property. Electric golf carts; motor homes; RVs; campers; trailers; skateboards; hoverboards; Segways and scooters etc. are not.
PARKING PASSES:
You will find 2 parking pass for Runaway Bay in the unit. Please remember to put the parking pass back in the unit before leaving. There will be a $75 replacement fee for lost parking passes that will need to be charged to your credit card if not left behind at departure.
Any excess vehicles > 2 (the number included any golf carts) must be parked offsite.
GRILLS:
Charcoal grills and picnic tables are provided at several locations around the community.
Cooking on lanais is prohibited.
OBSTRUCTIONS & AESTHETICS:
Please store bikes and beach items under the stairs. 
Wet towels and clothing etc. shall not be dried on front or rear railings. 
SMOKING:
Smoking on the grounds is ONLY permitted in the designated area on the north side of the clubhouse; an ashtray is provided.
SWIMMING POOL & DECK: 
Please be sure to read local rules posted at the pool. The pool and surrounds are for persons residing here only.
For the safety of all and as a courtesy to your fellow residents, glass of any sort, smoking, parties, active games and running are not permitted in the pool area. People have been hurt by balls (large and small) and there's no room for rafts/tubes. So please – no balls, rafts or inner tubes at the pool. However, baby floats, exercise belts and noodles are okay!
There are no lifeguards and responsible adults account for their own safety, and safety of those who need supervision, regardless of age. 
Pool closing time is per local laws and clearly displayed.
AMMENITIES
Bocce ball court

new court with a shady viewing area
Clubhouse

Large and inviting for a variety of group activities, parties, and much more
Booking is easy

Fitness room and sauna

Maintain your healthy level of fitness using this well-equipped room
Good selection of weights and machines
Shuffleboard courts

Located next to the tennis/pickleball court

Swimming pool

Heated, salt water pool is the largest on the island
This focal point of the community is a place to relax, chat, and sunbathe
Great place to watch children or grandchildren play
Chairs, loungers, and tables are available on a first-come, first-serve basis
Tennis/pickleball court

Recently renovated in a semi-shaded location, complete with night lighting
Provides the opportunity to meet new friends as you test your skills
Booking is easy, as is finding players to join up with
FACILITIES
Beach access

A dedicated and safe signal crosswalk over Gulf Drive North from Runaway Bay to the beach access walkway
Stroll between two beachside condominium buildings to enjoy the glorious white sands of Bradenton Beach and extending over the many beaches on the Gulf-side length of the island

Fishing pier

An idyllic spot for all ages
Perfect for spotting and catching fish or watching the birds
Enjoy morning coffee or an evening beverage as you watch for dolphins
A wonderful place for a chat with family or friends or for just gazing across the waters
Kayak launch

The views will change as you glide across Palma Sola Bay

Mailroom

Accessible 24 hours a day

Parking for Units and Guests

Permits must be visible in front windshield of cars at all times
One designated parking space per unit
Ample guest parking available throughout community, with permit displayed

Picnic tables and charcoal grills

Enjoy a leisurely meal prepared the charcoal way

Storage

Please put bikes, beach, and recreation items under the stairwells

Personal kayaks may be stored on the racks at the kayak launch after registering with the Operations Manager

Trash

Conveniently located throughout the community
Please adhere to the Manatee County recycling system
Please refrain from dumping construction debris or other large items in the dumpsters