All our properties are well maintained and fully checked before your arrival. If you encounter any issues, please report issues as stated below.
1.) Immediate issues upon arrival
If you find any issues upon arrival, please make sure to report as soon as possible. The fastest way to report is through our ticket system which you can find here. Depending on the nature of your report, please except a response between a few minutes up to 48 business hours depending on the nature of your report.
Please be as specific as possible. All our tickets are responded online, so please check the the email address you used at time of booking. There is no need to double report (phone and ticket). Ticket is always fastest.Phone reports will also be converted to tickets and responded through the ticket system (except in emergency situations, like active leaks or lockouts).
We are happy to send a team member back to check and correct any issues or oversights. Any issues reported more than after 24 hours will also be fixed as soon as possible. However since those can usually not be verified it will take additional time to resolve and will be directed to regular housekeeping schedule.
Please be advised, any unspecific request will be sent to housekeeping to be verified and fixed after your departure. As outlined in the FAQs and T&C our service communication is performed online – with very limited exceptions for emergencies.
So any requests for unspecified call backs will be disregarded.
2.) Small items (batteries, bulbs, fans, lights and such)
Our "Bulb" policy: Small items within a household can fail or be missing at any time. Light bulbs, pantry ant traps, batteries for remotes or other small items below $25 pare cost-effective to be just replaced by the guest.
If you are having issues with any of these items, simply go ahead and buy a replacement. Then, snap a photo of the receipt and email it to us.
We are happy to reimburse you for the cost. If it's more expensive, please contact us before purchasing. Any reimbursements will be refunded upon your departure.
You may also just report any defective items and we put it on the list for our housekeeping staff upon your departure.
Please understand, it's not cost-effective to send somebody out for a new bulb or battery.
If a fan is not working, make sure it is turned on. Ceiling fans often times come with a remote. However, they still have the switch (line to pull) on the fan itself. So both items must be "on" in order for the fan to work. If a remote is present make sure the batteries are ok. If you still encounter issues, please report here:: https://www.suncoastvacation.com/contact
Please be advised, ceiling fans are considered an add on and will only be serviced during regular maintenance and are not warranted.
Smoke alarms
Please be advised, there may be one or more non-working, disconnected, out of service smoke alarm devices. NFPA requires one working fire alarm on each level for existing dwellings, so this is totally fine. Those will be removed once the home gets a new paint job inside.
Lights
In Florida many light switches just turn an outlet on and off, not a ceiling light So if you are having problems with light (most likely in the bedroom) but may be in the living room as well, please do the following check before reporting an issue:
a.) Check if there is a lamp on your nightstand or floor lamp. Please turn it on with the the switch on/at the lamp.
b1.) If it is turning on: -> Leave it on and change the plug with the outlets nearby.
IMPORTANT: On these double outlets, sometimes one is switched and one is not, so try both!
b2.) If now, check the blub and try again.
c.) Then flip the wall light switch at the door around so see if one of the outlets is switched.
In 99% of all cases this procedure will resolve issues for a non-working light switch or finding the switched outlet.
For the 1% left… Send us a maintenance request here. We are here to help!
3.) Hot water
4.) A/C
Please check all breakers!
If there is an additional humidistat next to the thermostat, please make sure and leave it to "ON" position. This will solve 99% of issues if there is a humidistat!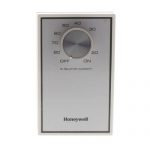 Please set thermostat to the desired temperature. Please make sure that unit is set to "on" and either heat or cool, depending on what you need.
Please check if there is ice buildup on the outside A/C condenser or lines!
If the unit is still not working, please turn it OFF and report the issue: https://www.suncoastvacation.com/report/
During winter, in order to heat property, you need to set thermostat to "heat". Please make sure to check A/C unit before it is getting cold, since heat is rarely used in Florida.
5.) Refrigerator / Freezer
If you find the fridge and/or freezer not working properly, we recommend the following steps:
a.) Unplug the appliance and wait for 2 minutes. Then replug power and wait 1-3 hours to see if it is cooling properly.
If this isn't helping please report issue here: https://www.suncoastvacation.com/report
Appliance repair companies are available M-F only. As much as we'd like, we have not found a competent appliance repair company doing service on the weekends/holidays.
We are not responsible / reimburse for any spoiled food.
6.) Electric Stove (older coil style)
Electric stove burner tips: Simple fixes solve most problems (for the older "coil style" stoves ONLY).
If one of your electric stovetop burners isn't heating, it could just be a bad connection in the burner socket. The cleaning team sometimes removes the burners in order to be able to clean the stove, so checking if the burner is put in correctly will most likely resolve your issue without waiting for maintenance to check the burner. Just remove the burner by pulling it out and plug it back in.
Another thing to try is to remove it and plug it into another burner receptacle of the same size. Then, turn on that element. If it still does not work, the element will need to be replaced. Please contact us to let us know and we will send maintenance.
7.) Washer / Dryer
Washer does not spin or does not finish cycle:
– Unplug it to reset the computer, plug it back in after a few minutes.
– Try to open and close the door 6 times in a span of 12 seconds. Many washing machines are set up so that this signals the computer to reset.
– Let washer cool down for a few hours.
– To see if the washing machine is fixed, set it on "small load" and allow it to run without anything inside. If it runs through its full cycle, it is safe to begin washing clothes in it again.
Dryer does not work or stops mid cycle:
– Check to see if the circuit breaker that powers the dryer has tripped.
– Check if integrated lint filter (and filter between dryer ant vent if applicable) are empty.
If problem persists please let us know.
We formally do not warrant or reimburse if laundry is unavailable during your stay. While we are always trying to schedule tech visits asap, appointments and / or repairs may take serveral days. We also cannot reimburse for expenses related to any outage.
8.) Report specific issue
Please report any issues here:https://www.suncoastvacation.com/report 
This is the fastest way! Double reporting (ticket and phone) will only delay the response time as tickets will be manually combined before sent to service personnel.
If you resolve the issue after reporting, we expect you to notify us immediately.
If our service personnel or 3rd party vendor can not verify the issue, we reserve the right to charge your card on file for unnecessary repair request and / or place our party on a future  "no-rent" list.
As we like to improve our service, we do appreciate reports. You encounter the property by living there, what we can't.
But: Please understand, things may become defective at a vacation rental at any time. It is like in your home.
In order to protect your privacy, any non-time sensitive issues, non-essentiell or general non-working equipment, is scheduled to be fixed after your stay. Of course, A/C outages, leaks, pool issues and such are handled with priority during your stay.
If you request to have such non-essentiell items fixed during your stay, we are happy to do so. However, disturbances of any kind by our service personal or 3rd party vendor, does not constitute a reason for a refund.
Any issues reported after your departure will never qualify for a refund.
9.) How Services are performed
Please report issues through our online ticket system or leave a message on our phone hotline. All phone messages are converted into the ticket system, so the ticket system is always the fastest method.
Replying back to a pre-arrival or support message (email / text / 3rd party message app like VRBO) will not be received by the support team in a timely manner. So please use the ticket system for prompt service.
We will respond to your report through the ticket system and / or text message in case of emergency. Our team members are unable to call back in order to discuss unspecificied issues. So please be as specific as possible.
If you talk to the cleaning company, pool guy or lawn service with information about things outside their immediate scope, don't be surprised if you never hear back. That's why we have the fancy ticket system! 
Except for emergencies (i.e. leaks, fire, lockout) we will notify our housekeeping to check on all issues after your departure. So we give you the least disturbance during your stay. Of course, we will address any time sensitive issues during your stay and in a timely manner.
Depending on the nature of the issue, we are either sending our own repair personnel or seasoned outside vendors. Most services are performed M-F during regular business hours (10-4). Upon reporting of an issue our service provider may attempt to resolve outside of these times if they deem it appropriate.
We serve the right for the repair personnel to access to the property in your absence at our discretion. This applies anytime after reporting an issue / malfunction or in case of an emergency. Pets (in pet friendly homes) may never be left unattended on the property.
10.) Common elements
Unfortunately, and on some occasions, condo and/or homeowners associations have to schedule closures / improvements / changes of common elements. Delays may occur beyond our control, which makes certain common elements unavailable and / or longer than expected.
As much as we are trying to communicate any such events, the availability or unavailability of common elements is beyond our control. Any issues with common elements do not entitle for a refund or reduction of the rental rate.
11.) Power outages
https://www.fplmaps.com/
12.) Other situations
Should any mechanical failures occur during your stay, like Tv or appliance malfunction, A/C issues we will do our best to make prompt and thorough repairs. Just report it through our ticket system.
Some requests may require outside vendors to repair and/or replace equipment. If we or an outside vendor finds the equipment is not working due to guest misuse, operating error, or negligence, the guest will be responsible for incurred service charges.
Unfortunately, we cannot offer refunds for the inconvenience caused by inoperable/missing equipment, delayed vendor appointments or any permitting related issues. All appliances including laundry are provided as a courtesy and any malfunction does not entitle for a refund.